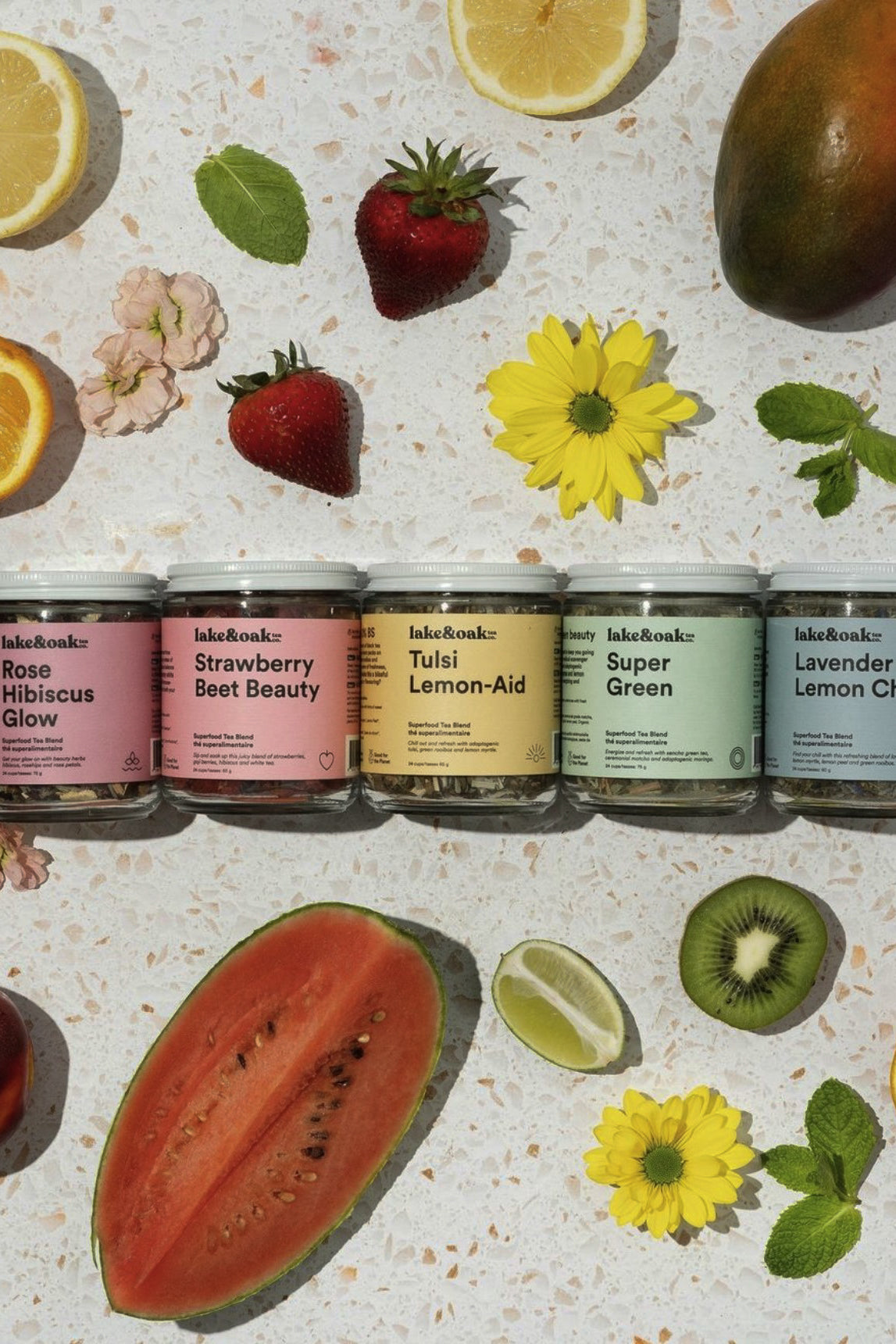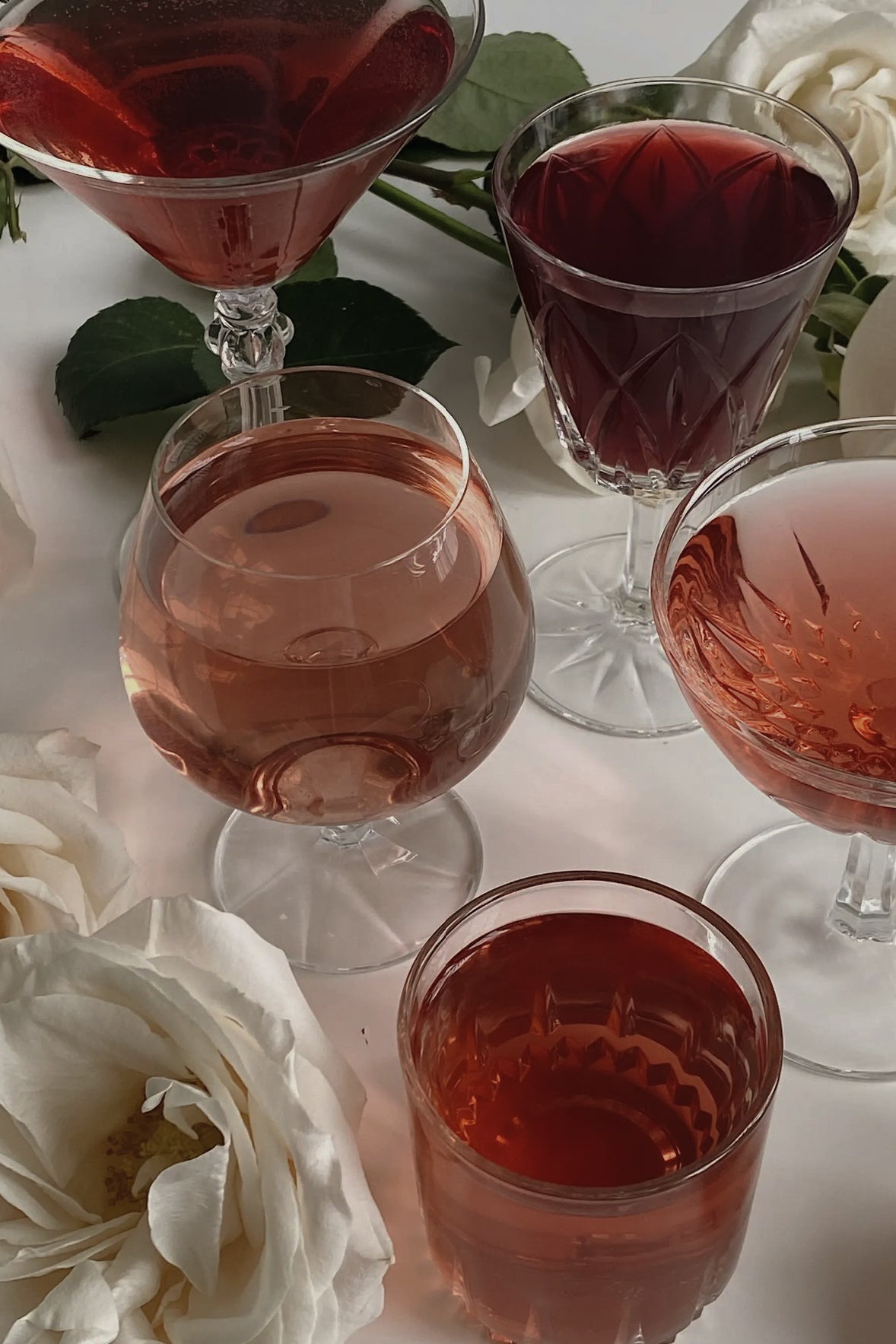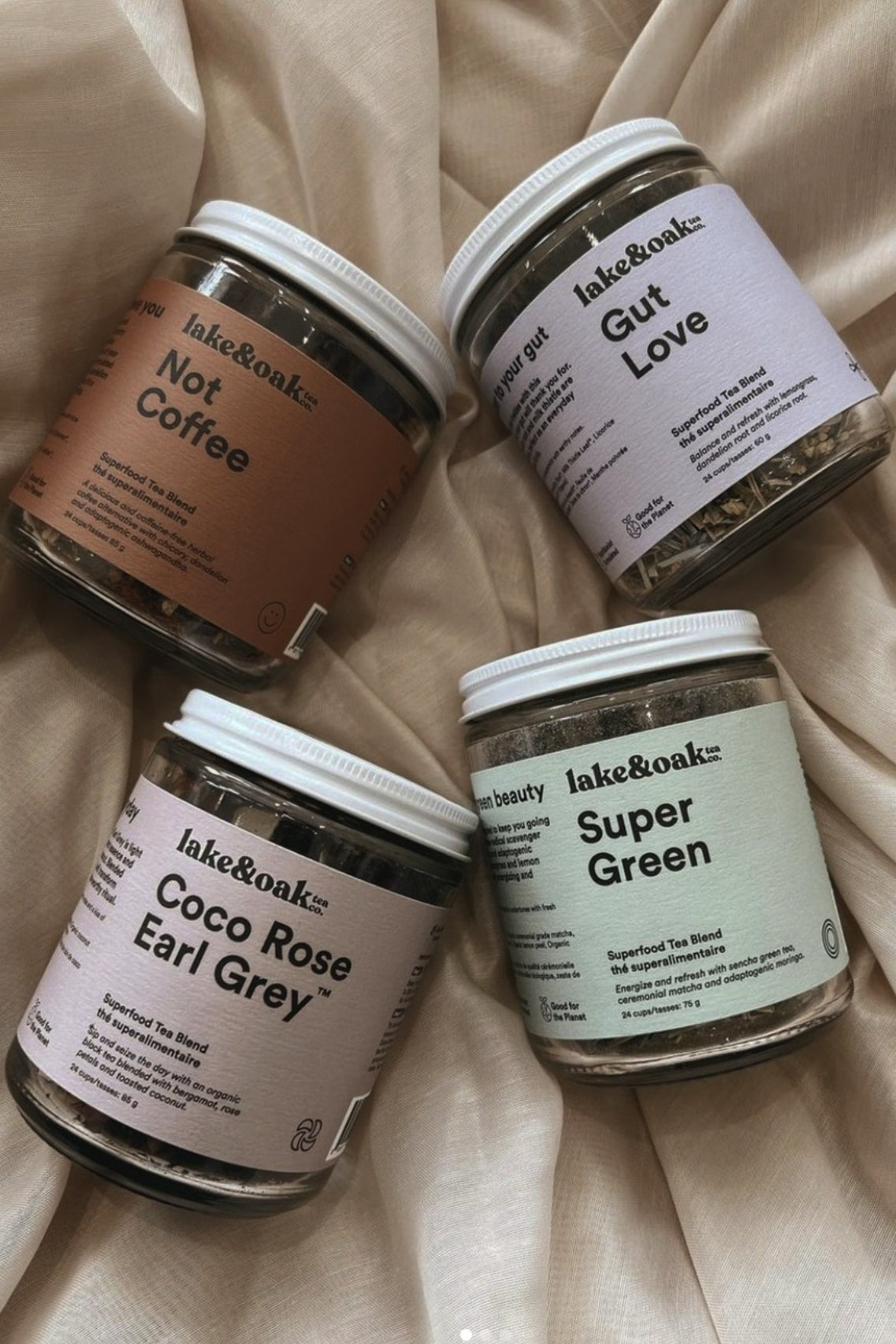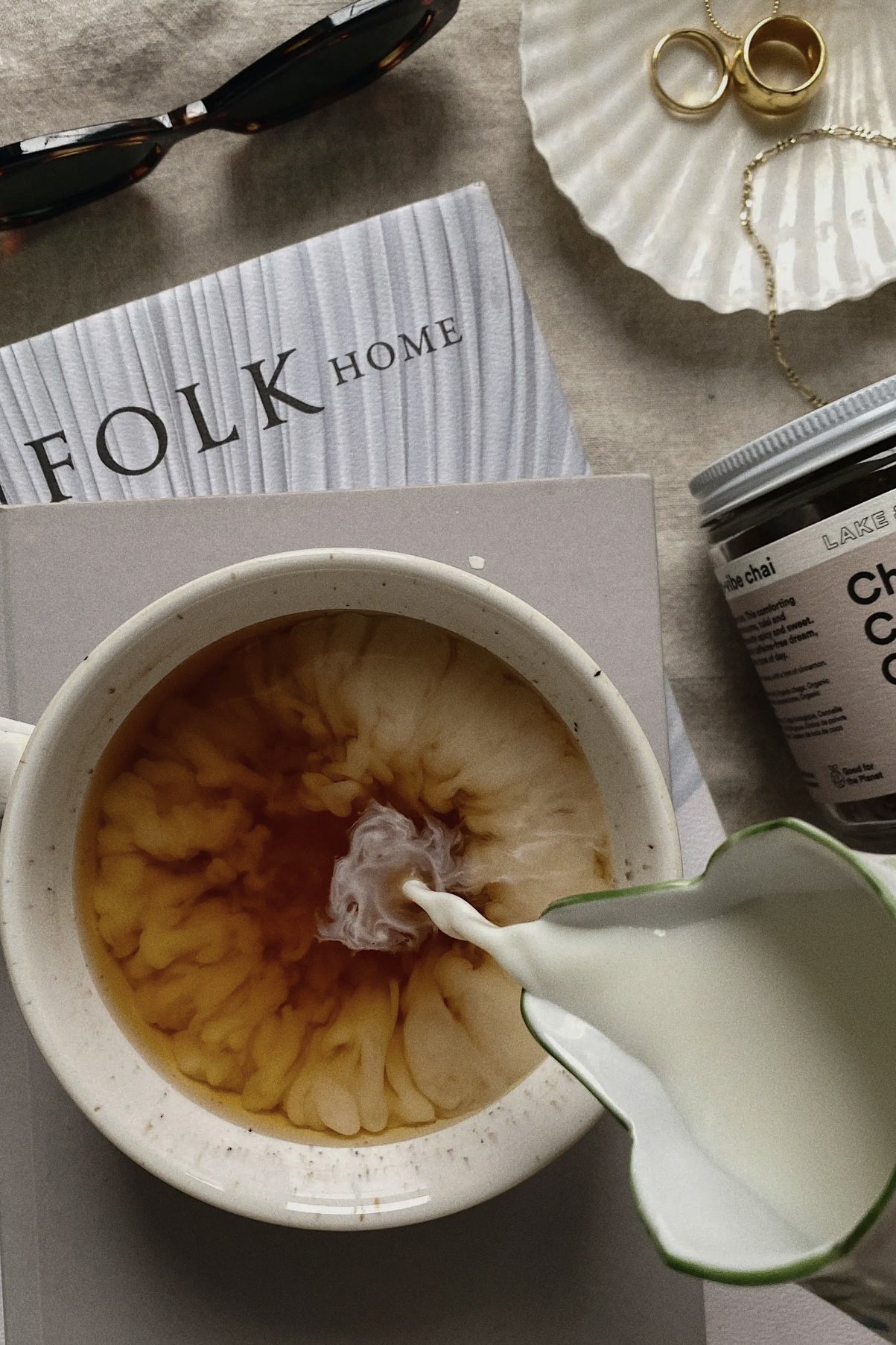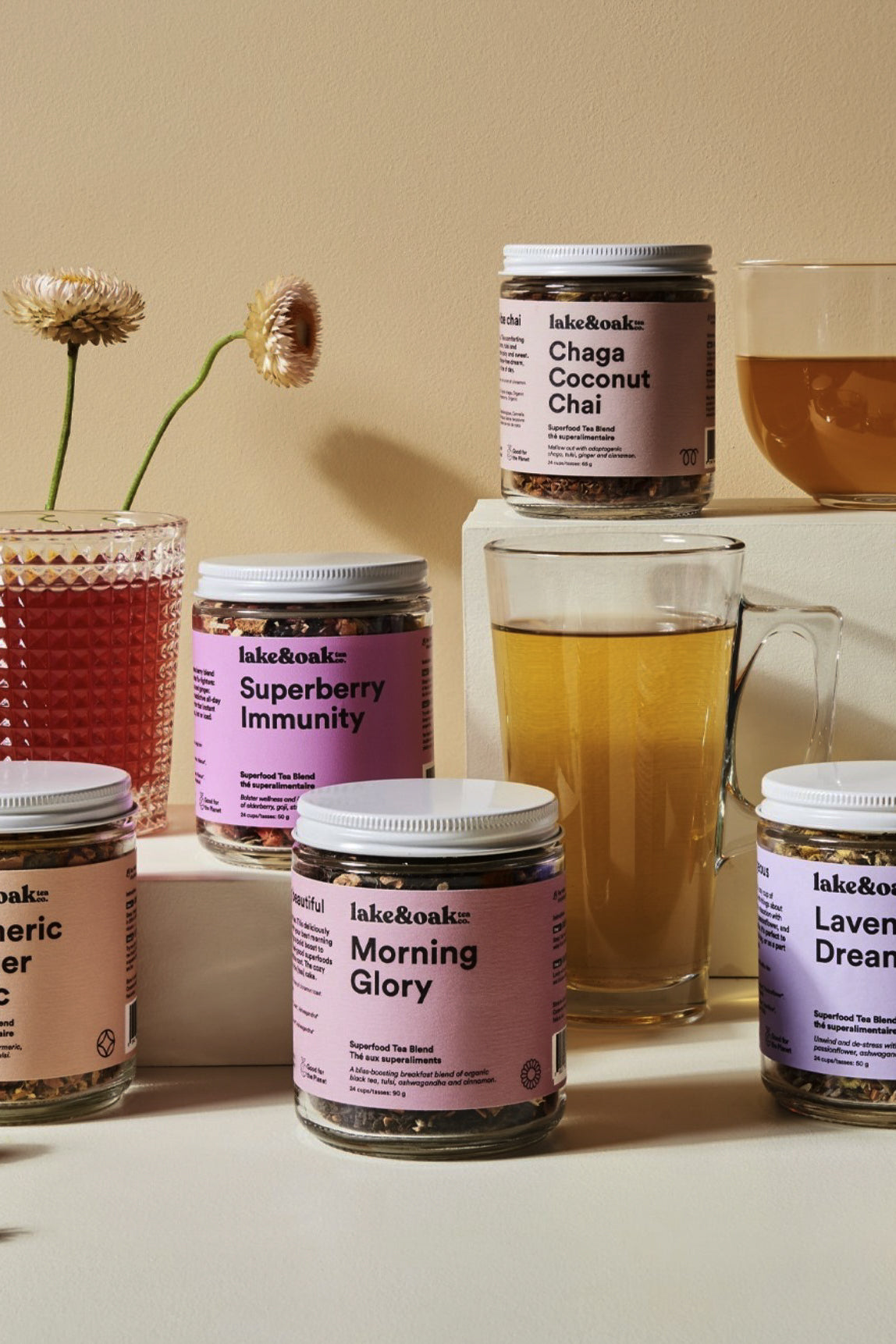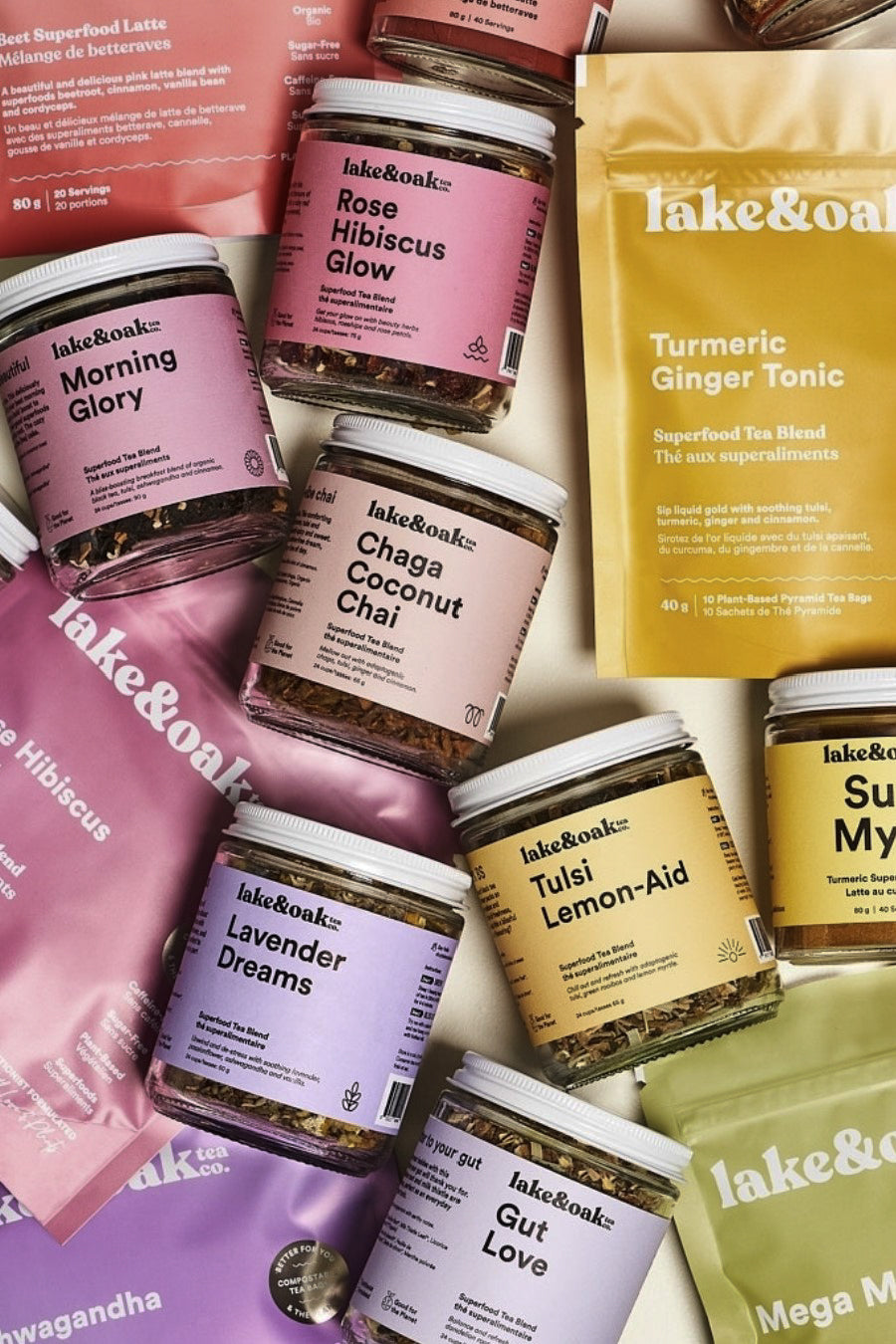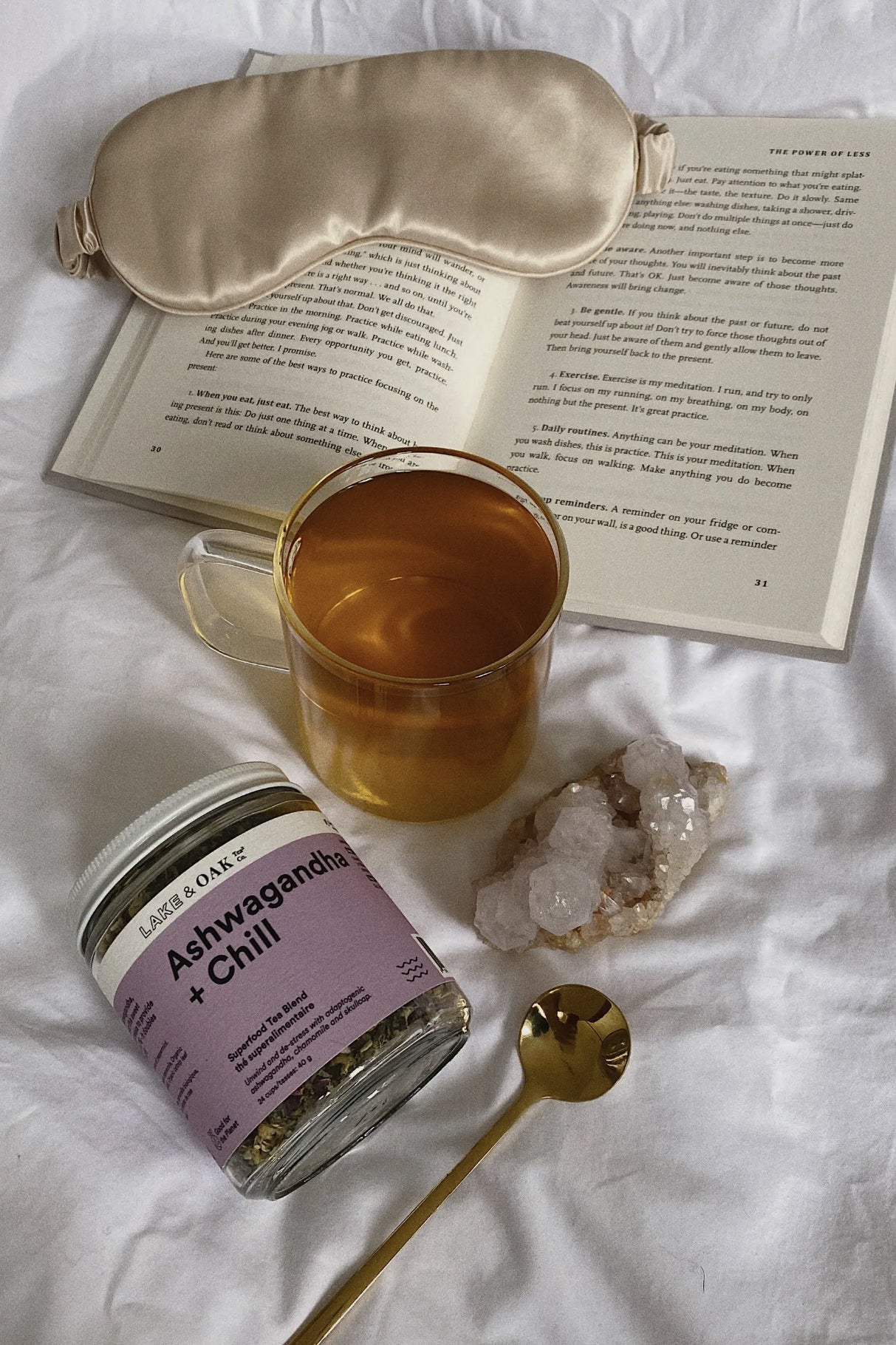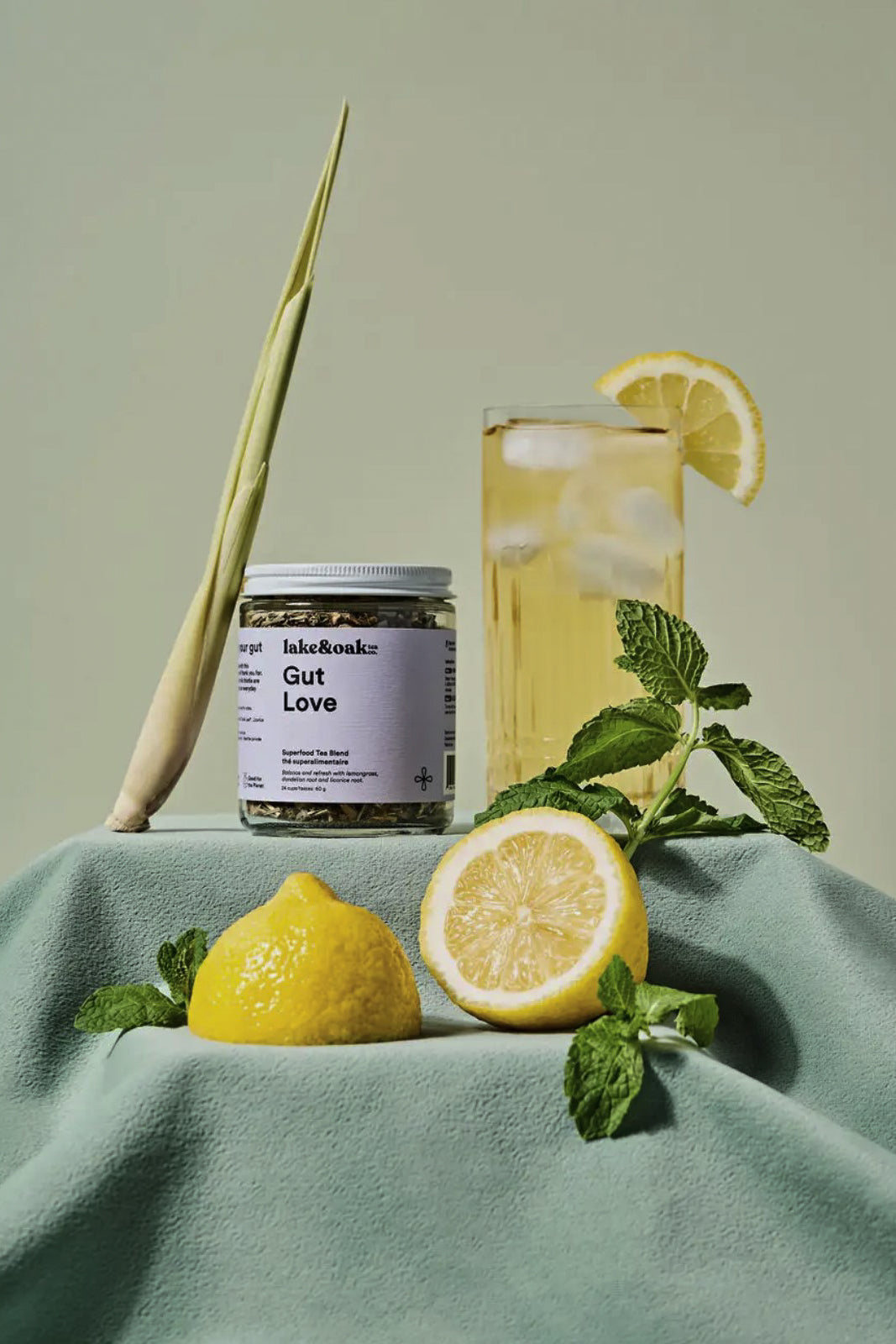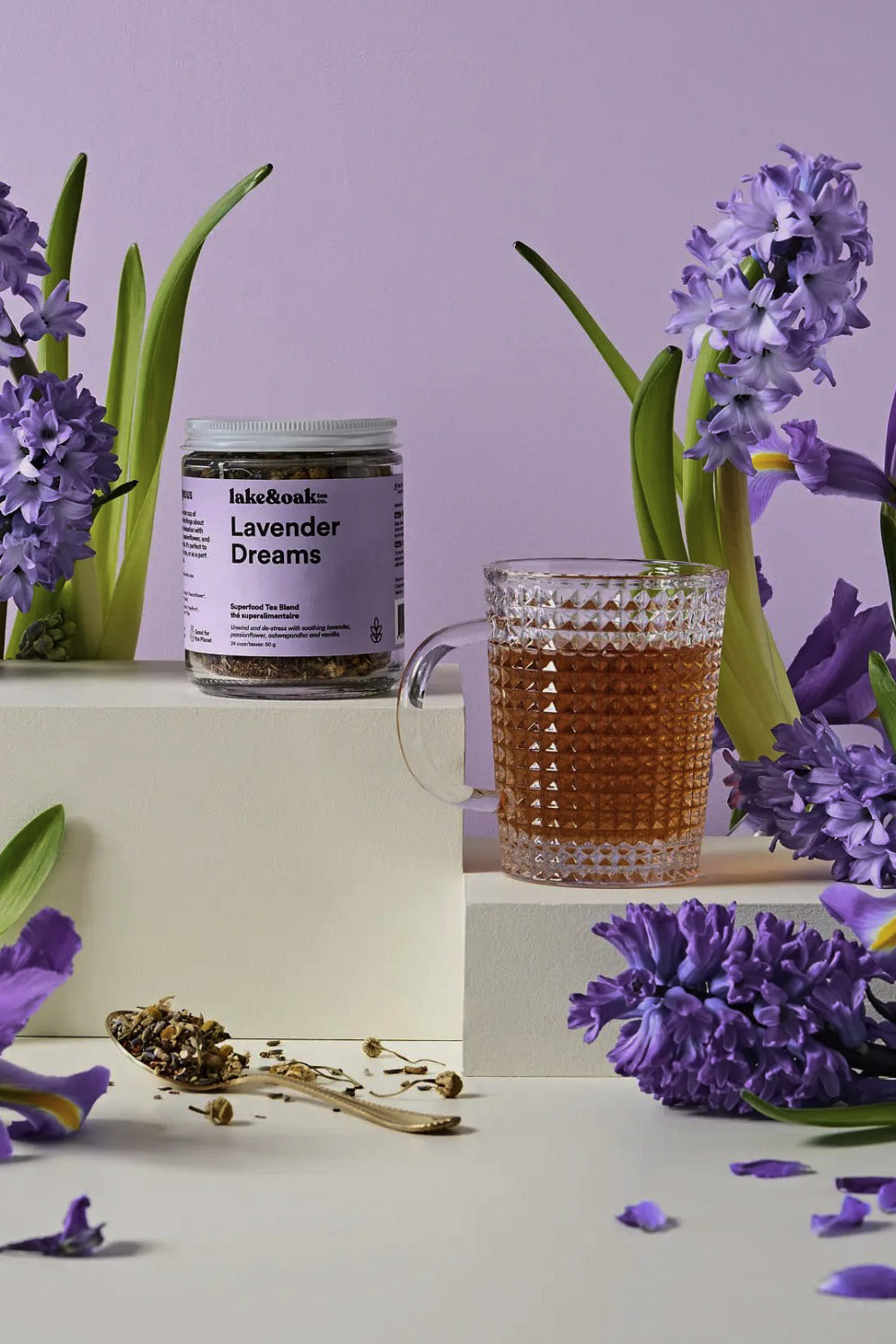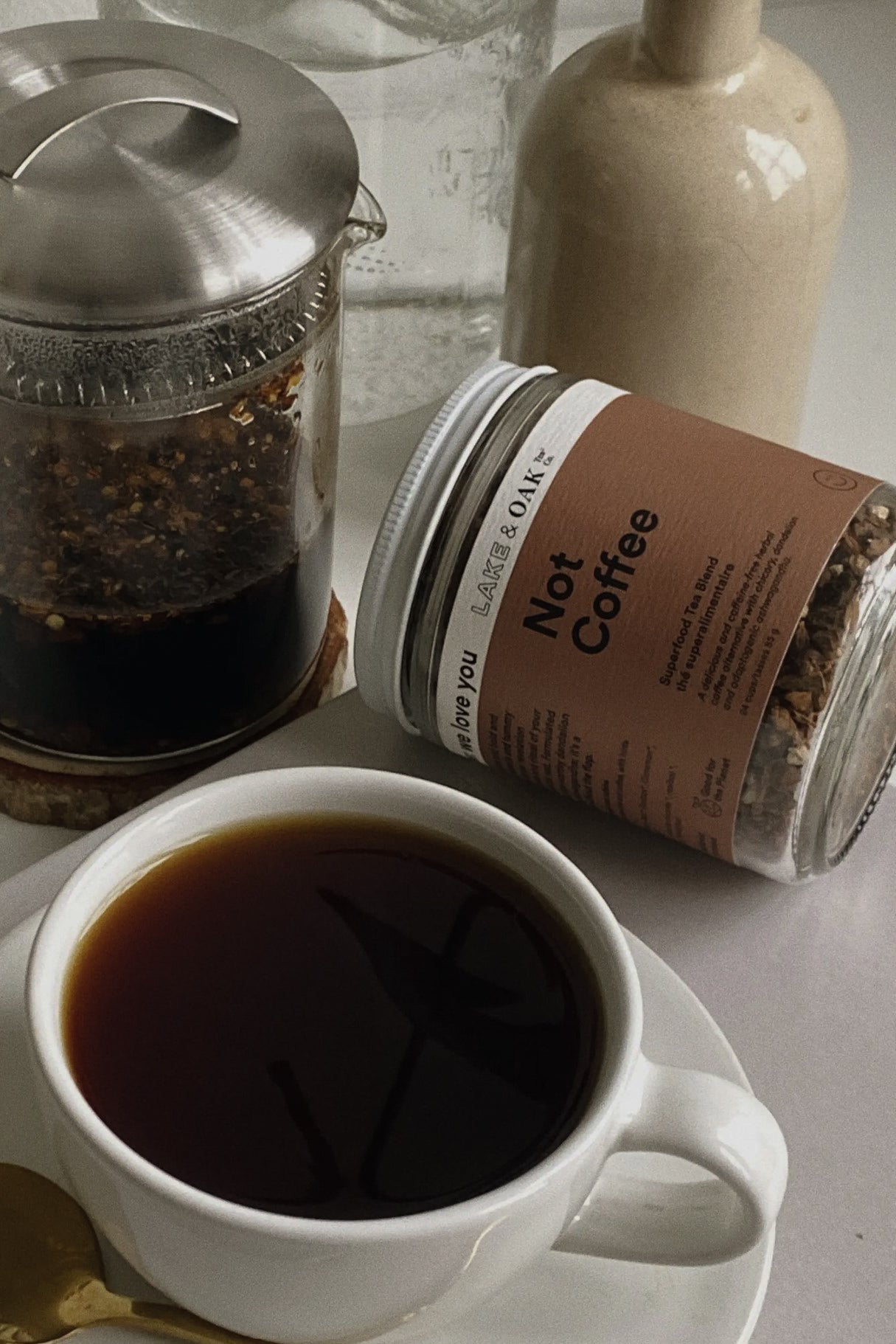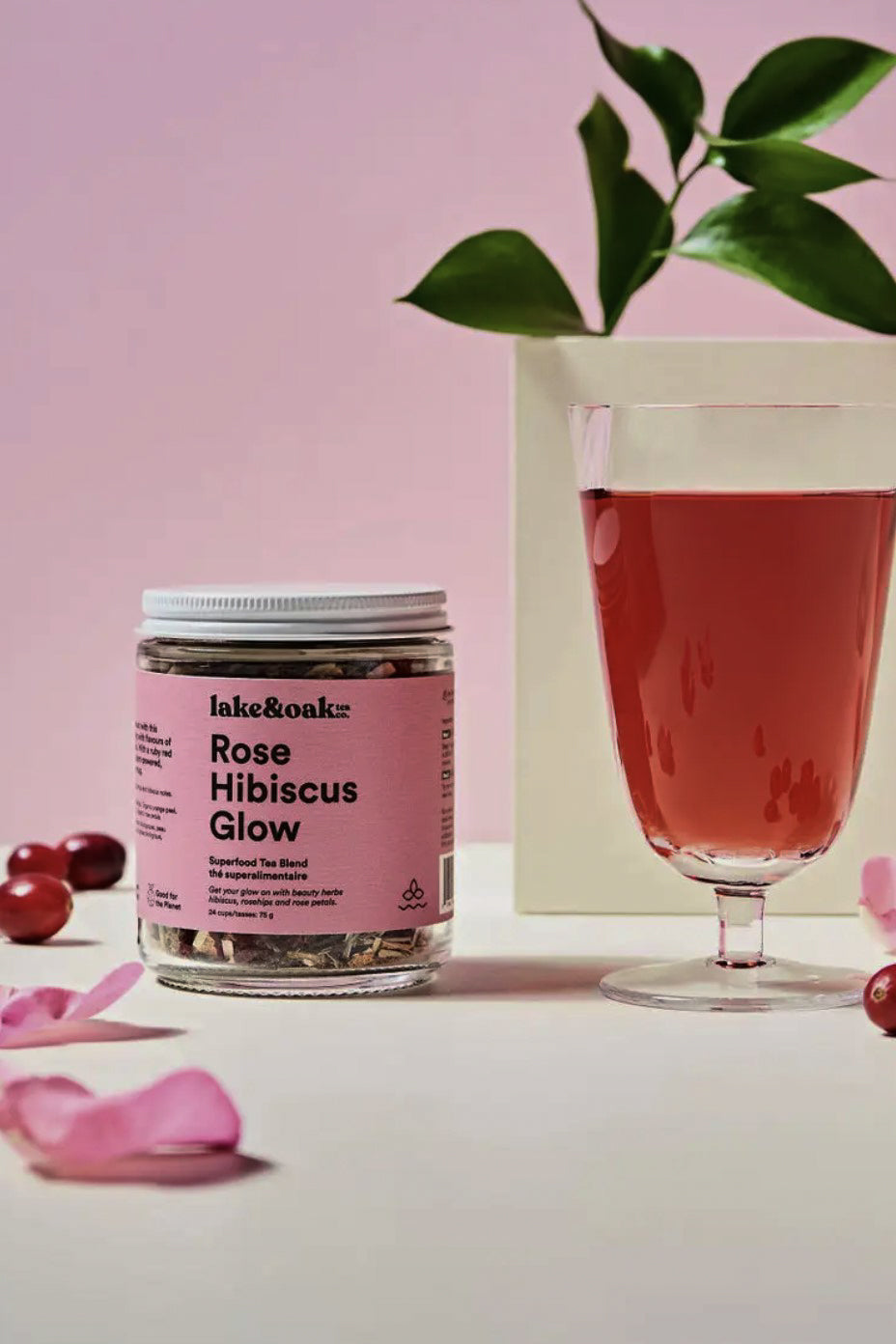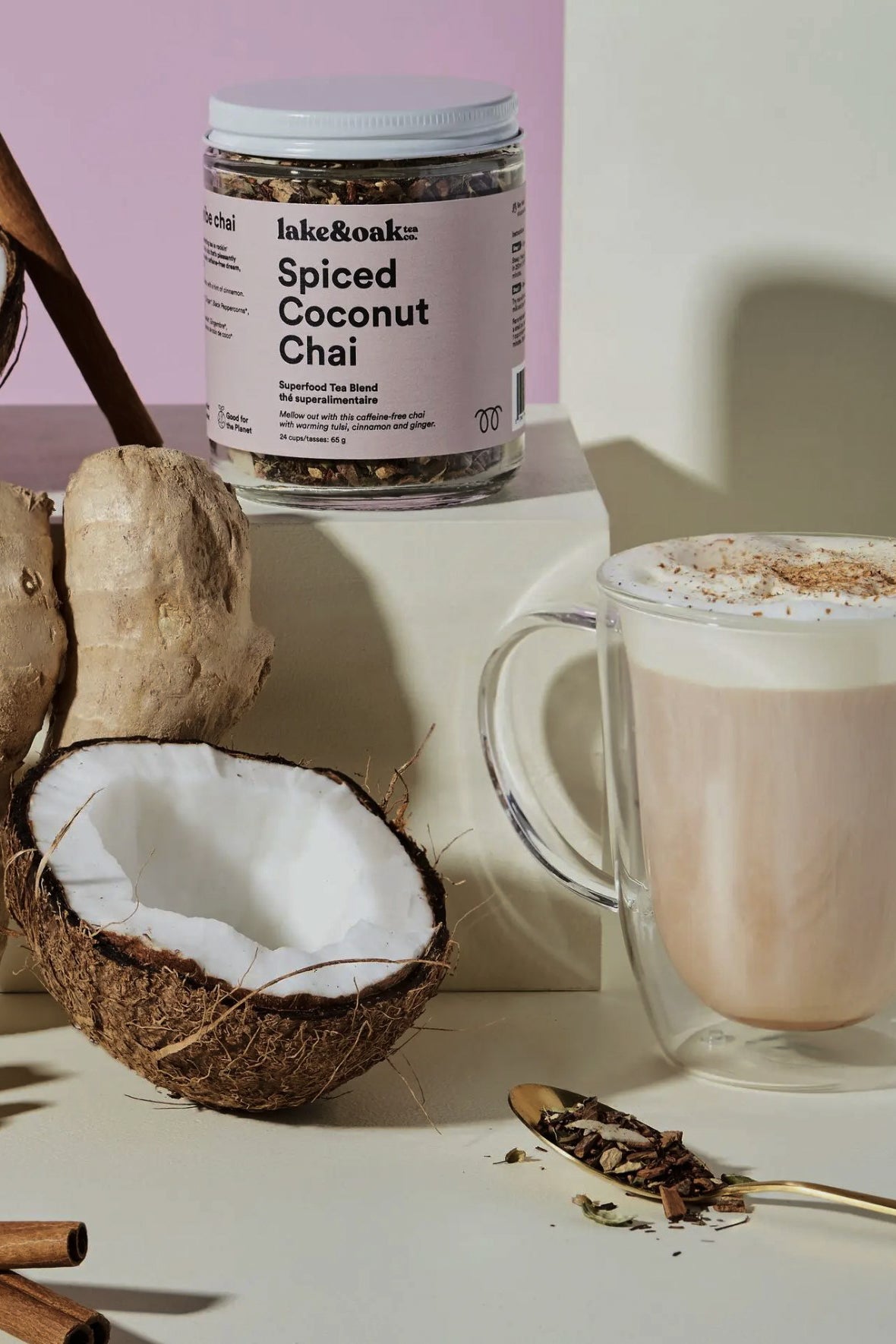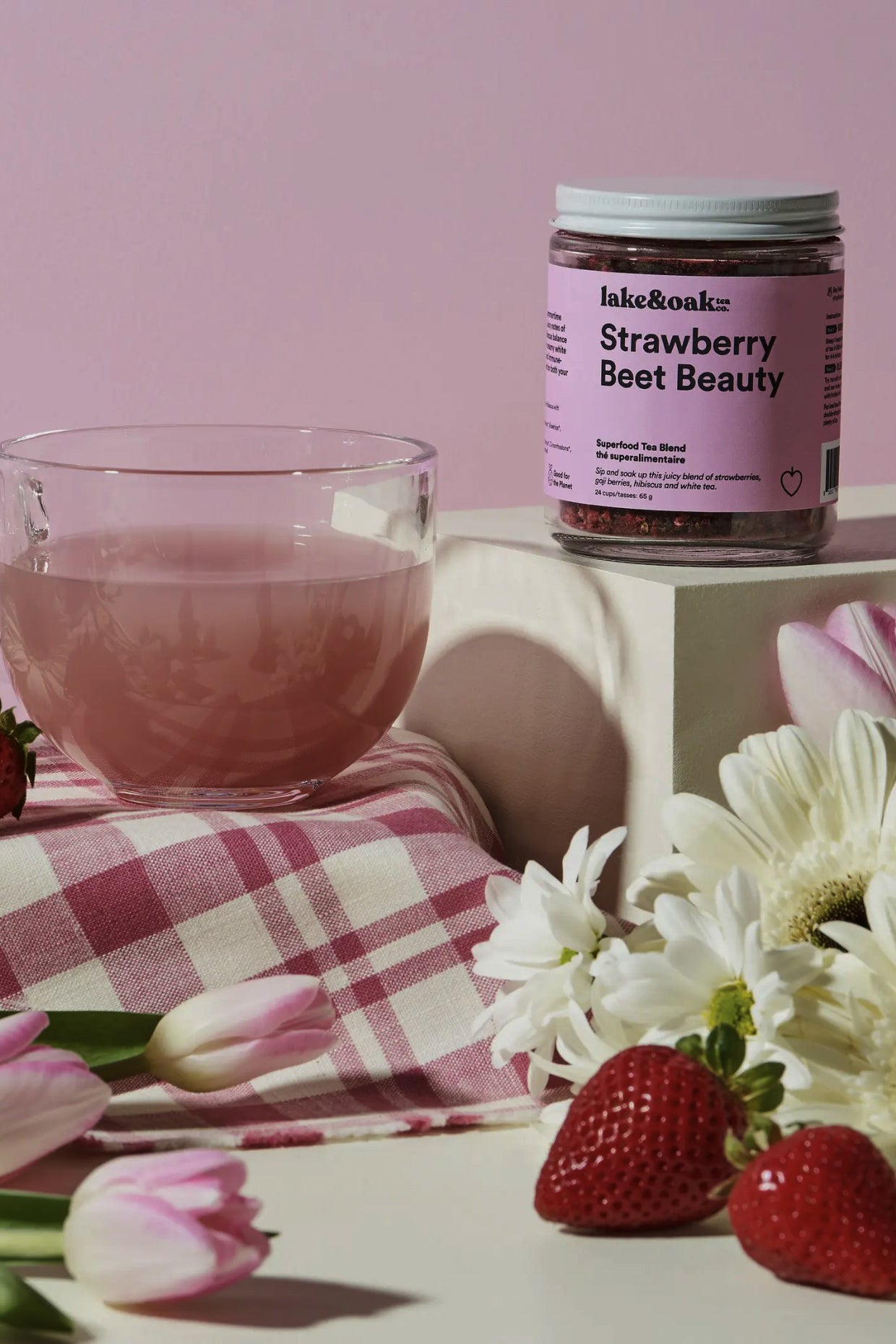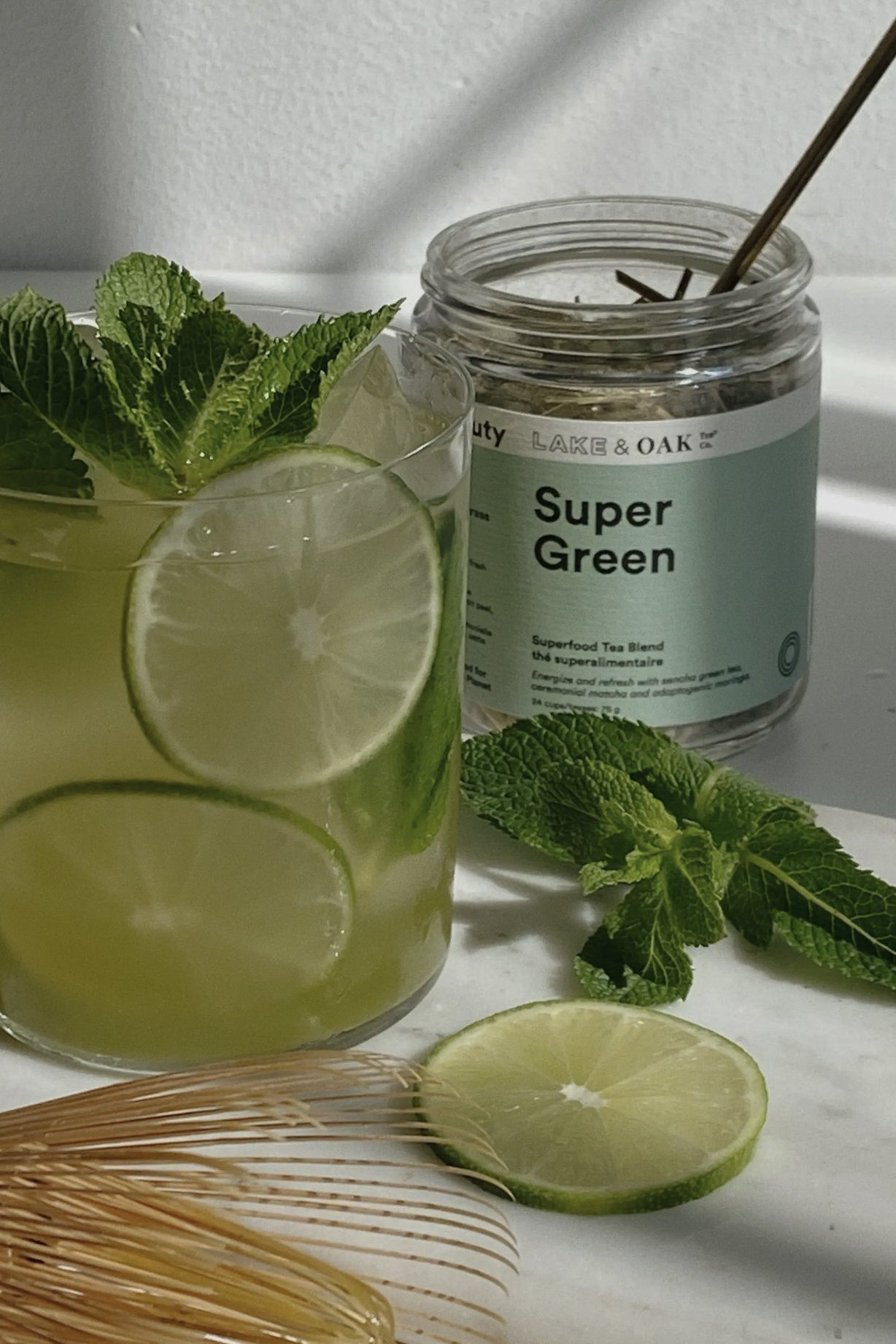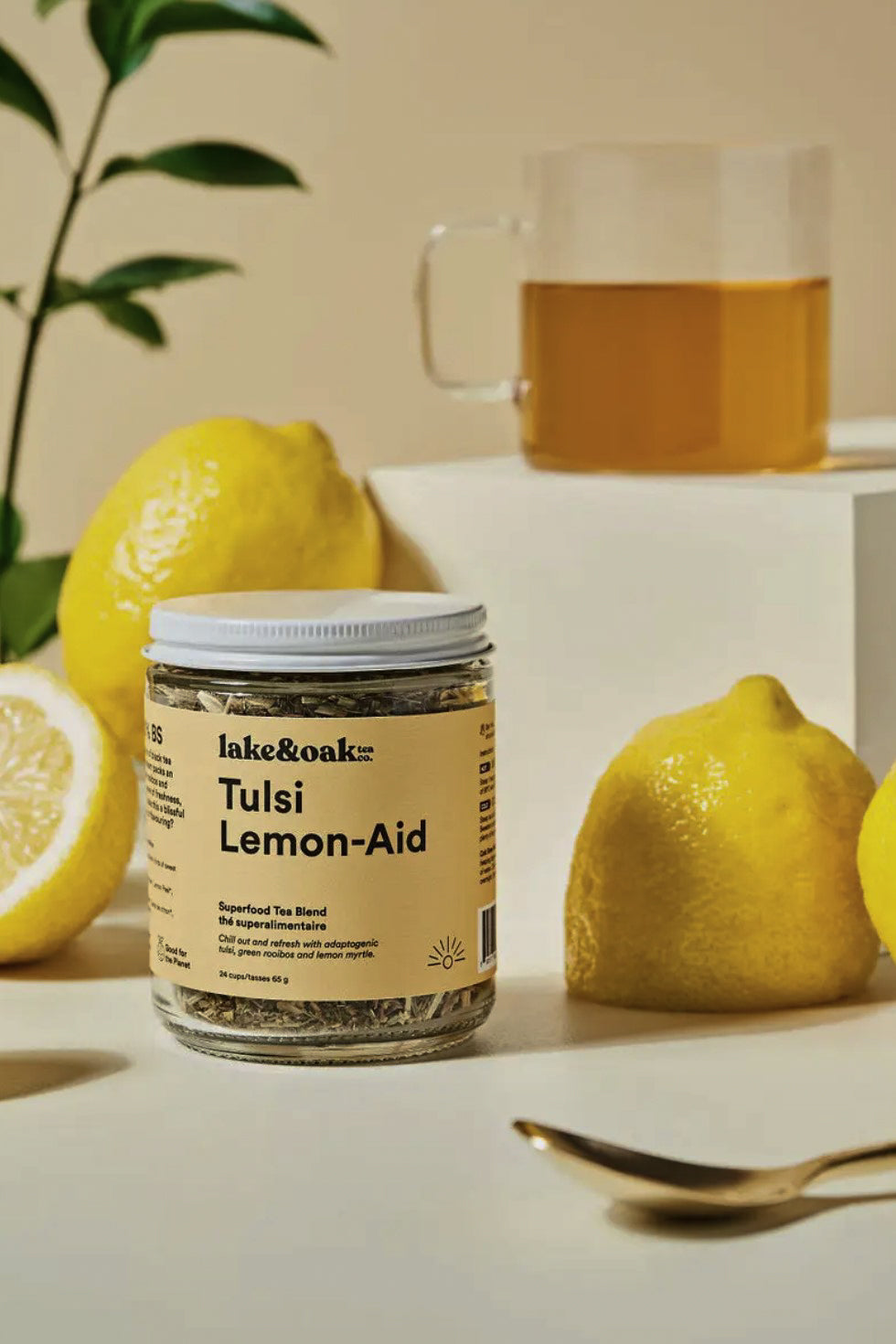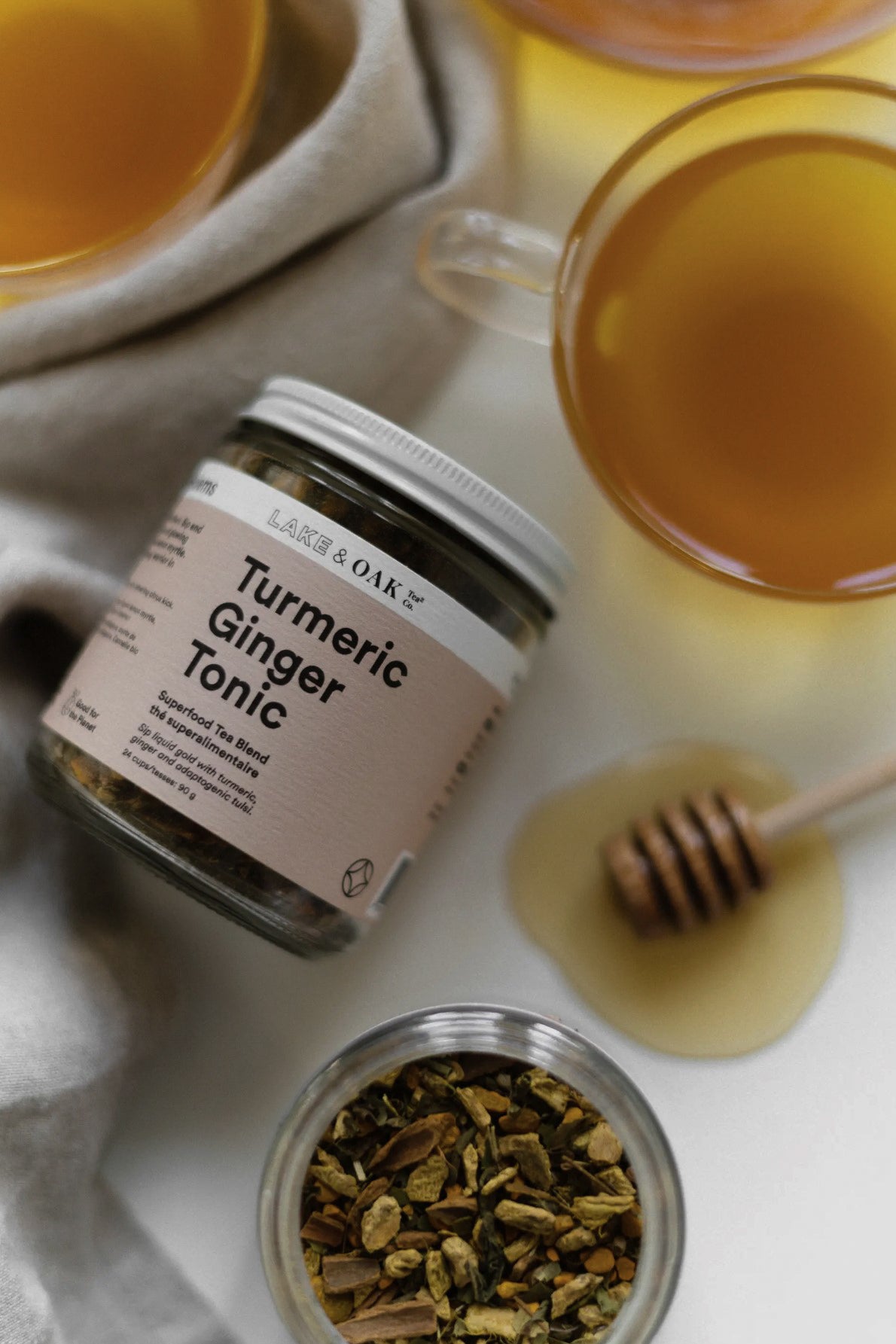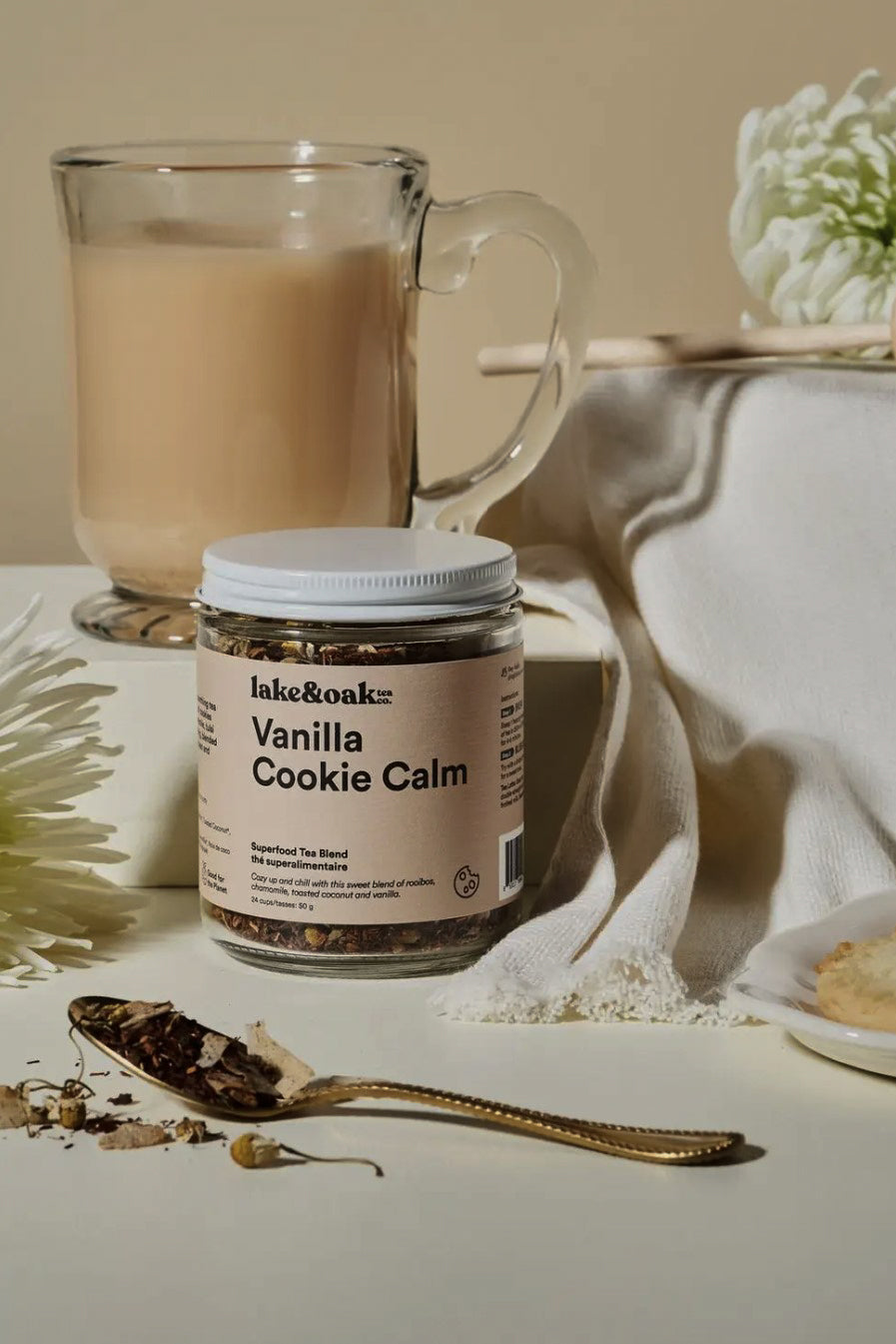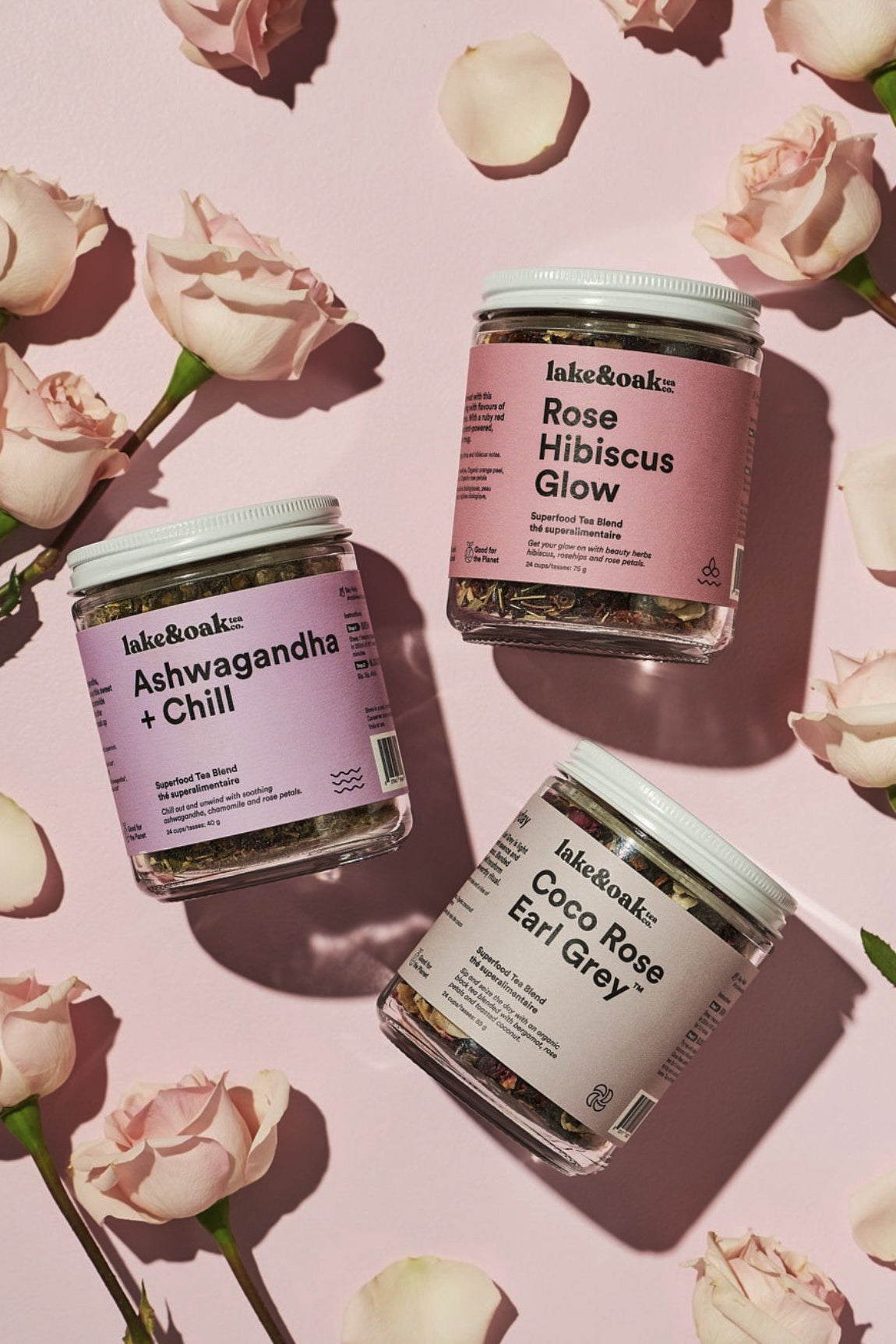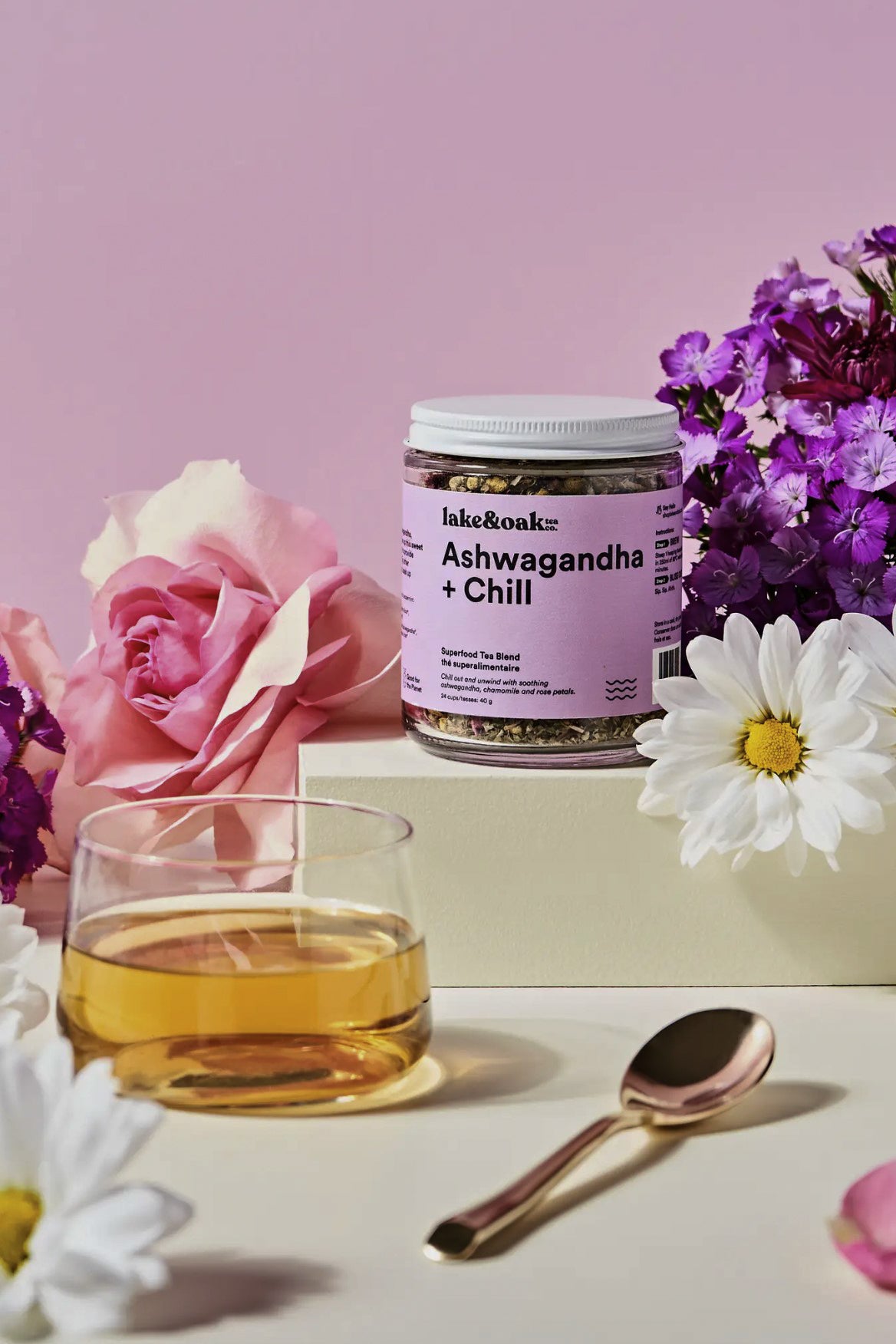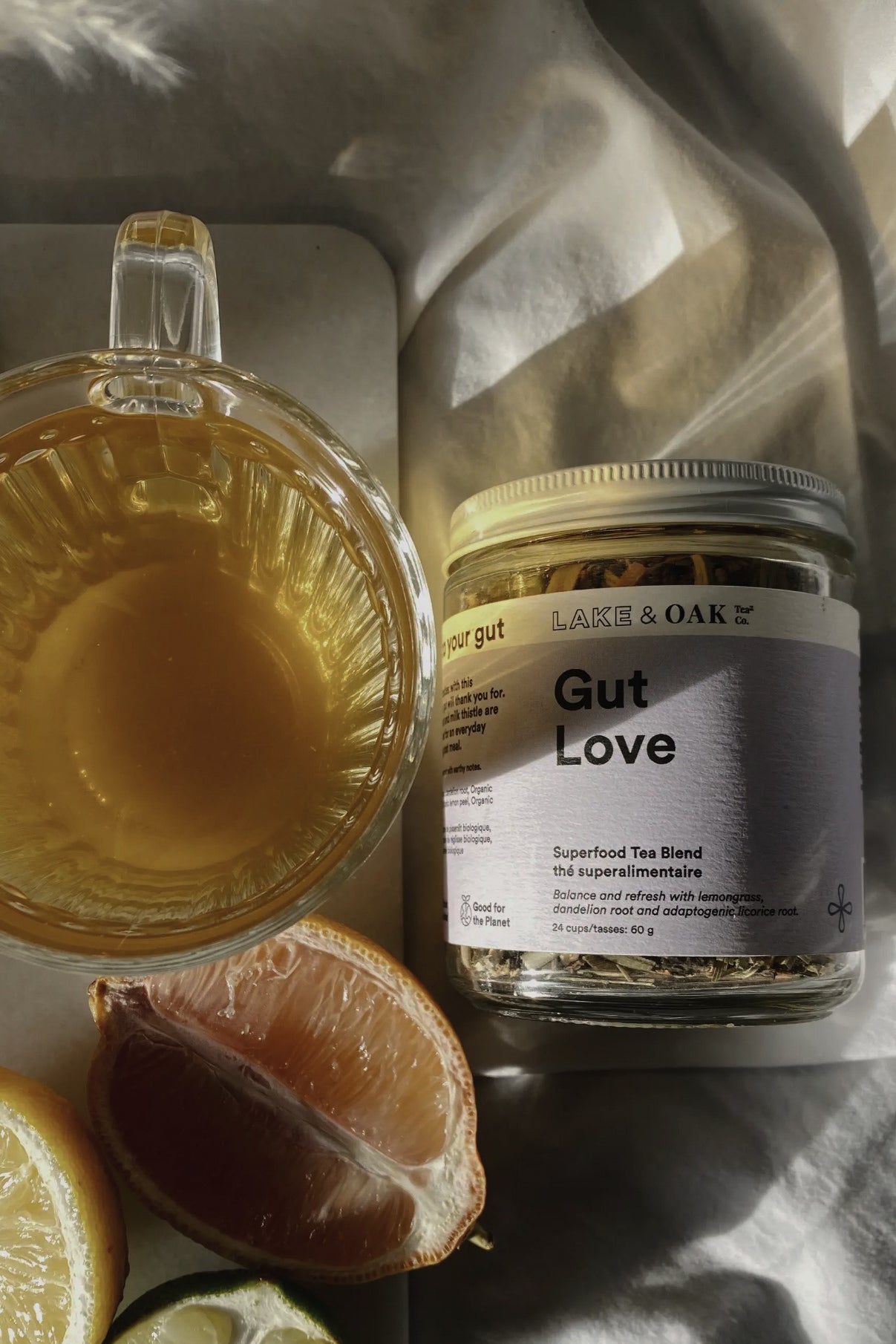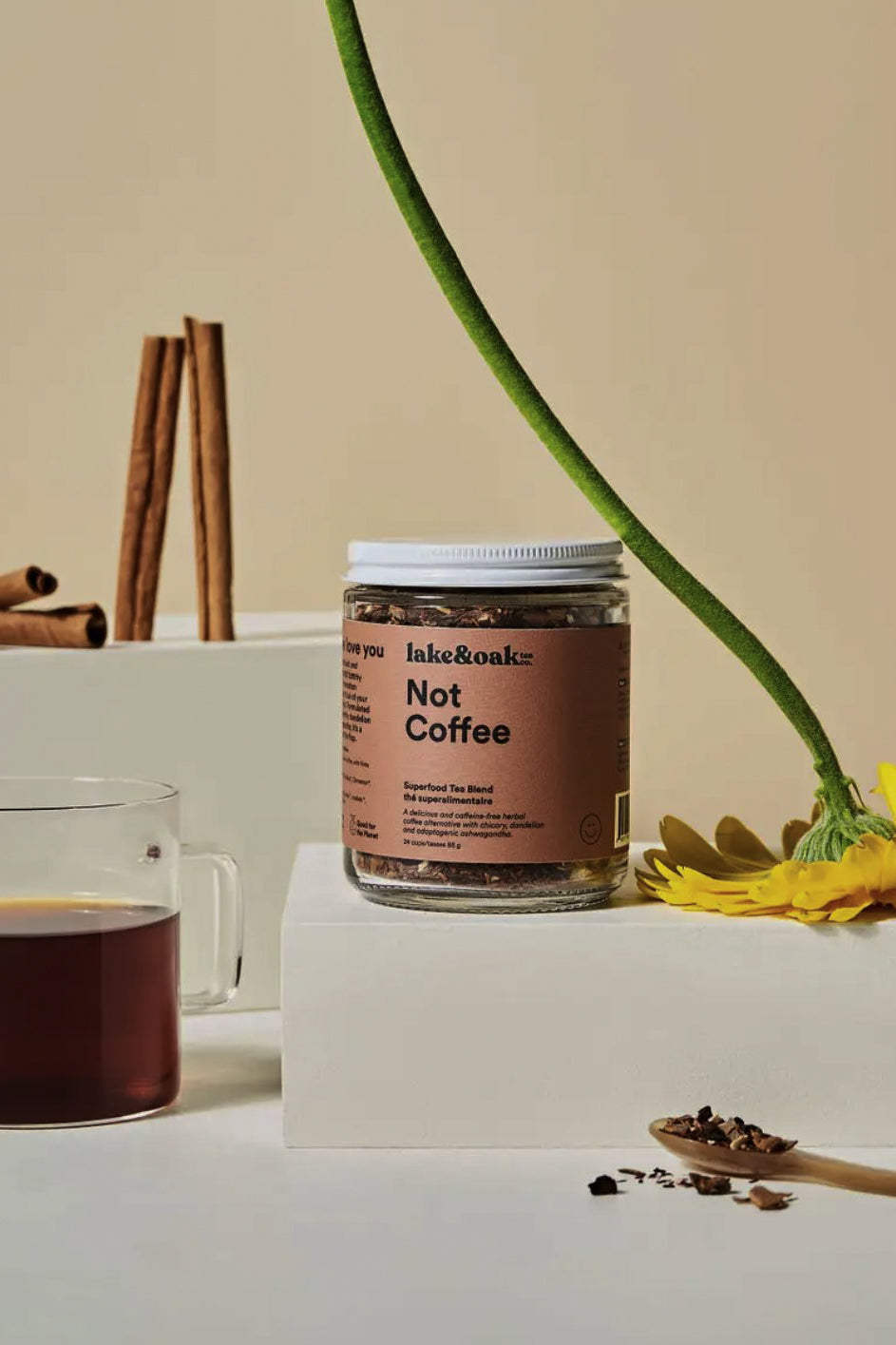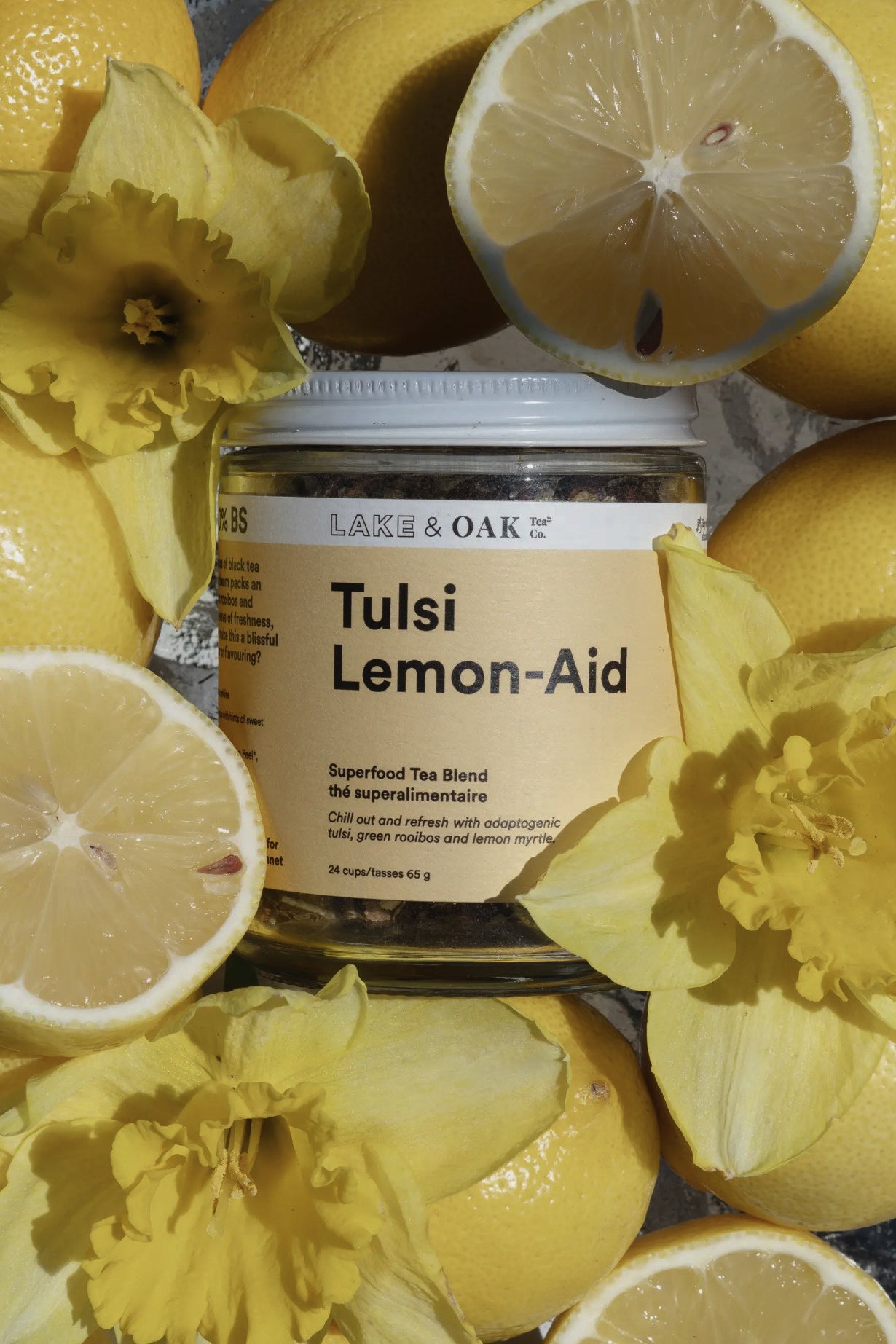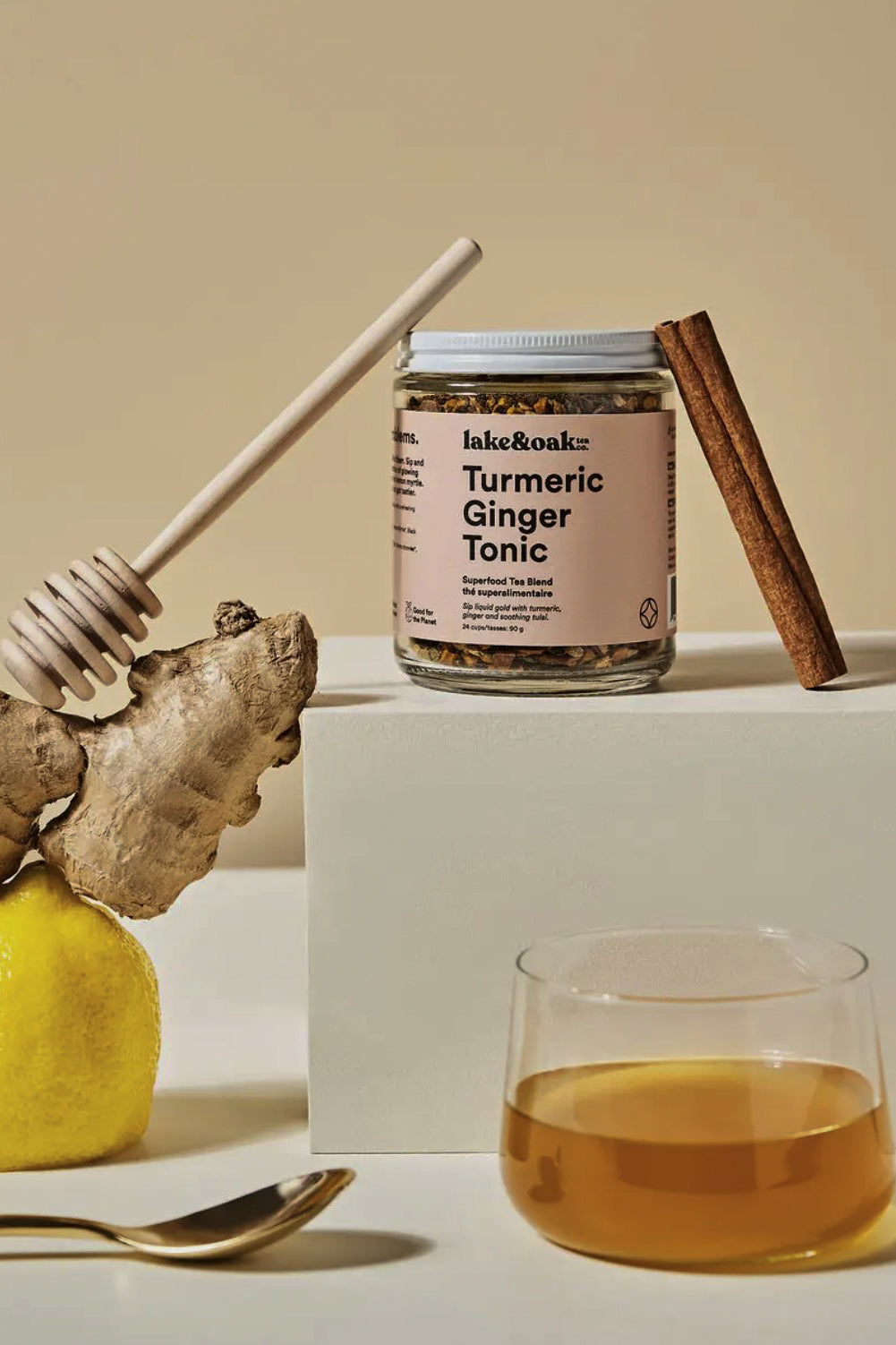 Lake & Oak Tea
Sale price

$22.00
Regular price
(/)
---
Lake & Oak Tea Co. is a female-powered Canadian wellness brand obsessed with fostering self-care rituals that taste as good as they feel. We're known for our clean and functional Superfood Tea & Adaptogen Blends that also happen to be the *best* you've ever tasted. Things you'll never find in our blends? Sugar, sweeteners or so-called "natural flavours" - we let the plants speak for themselves. Vegan, Organic, Sugar-Free and Made with Recyclable Packaging. 2% Goes Back to Mental Health.
Superfood Loose Leaf Tea!!
24 cups / 50 g
Ashwagandha + Chill: Soothe anxiety & squash sleep troubles over a sweet and soothing herbal medley of chamomile, spearmint and skullcap. This potent blend uses the adaptogenic herb ashwagandha to relax the effects of mental and physical stress, lowering cortisol levels and bolstering well being.
Tasting notes: Spearmint & subtle floral chamomile notes Tasting notes: revitalizing spearmint and sweet floral chamomile.
Ingredients: Organic Ashwagandha Root, Organic Chamomile, Organic Peppermint, Organic Passionflower, Organic Rose Petals, Organic Catnip Leaf & Flower.
Gut Love: Boost beauty from the inside out with this knockout blend that soothes the gut, tames inflammation, and promotes detoxification. Licorice and peppermint mingle to make the ultimate gut-healing cocktail, with dandelion bringing it's liver-cleansing prowess to the party.
Tasting notes: Refreshing citrus-peppermint with a hint of sweetness from licorice root.
Ingredients: Organic*: Lemongrass*, Dandelion Root*, Milk Thistle Leaf*, Licorice Root*, Lemon Peel, Peppermint
Lavender Dreams: Clean linens, soft slippers and a cozy cup of lavender tea: a few of our favourite things about bedtime! Sip and soak up a little relaxation with this soothing blend of lavender, passionflower, and superfoods tulsi and ashwagandha. It's perfect to soothe your nerves on a stressful day, or as a part of your nightly wind-down ritual.
Tasting notes: Soothing lavender and rooibos with a kiss of warming tulsi and vanilla.
Ingredients: Lavender*, Tulsi*, Chamomile*, Rooibos, Passionflower*, Ashwagandha*, Pure Vanilla Bean Powder* (Organic)
Not Coffee: Dear coffee: we love you for your intoxicating aroma and bold and bitter flavour. Jitters, insomnia and tummy aches? No thanks! This herbal revelation brings the glorious richness and ritual of your morning brew, but leaves the rest. Formulated with power plants like detox-worthy dandelion root and stress-busting ashwagandha; it's a satisfying, feel-good fix without the flop.
Tasting notes: Bitter notes of dark chocolate and coffee, with hints of cinnamon and nuts.
Ingredients: Dandelion Root*, Chicory Root*, Rooibos*, Cinnamon*, Ashwagandha Root, (*All Organic)
Rose Hibiscus Glow: Boost beauty from the inside-out with this hydrating blend that's dripping with hibiscus, rosehip & super berry schisandra. With a ruby red tint and fruity feel, it's like a plant-powered, adaptogenic kool-aid in your mug.
Tasting notes: tart hibiscus and sweet citrus orange.
Ingredients: Hibiscus*, Rosehips*, Orange Peel*, Lemongrass*, Licorice Root*, Rose Petals* (*Organic)
Spiced Coconut Chai: The chai with its own fan club. This comforting tea is rockin' superfoods tulsi, ginger and cinnamon, for a sip that's pleasantly spicy and sweet. Rooibos makes it a naturally caffeine-free dream. great for mellowing out any time of day.
Tasting notes: exotic spices with a gentle sweetness from cinnamon and coconut.
Ingredients: Roobios*, Tulsi*, Cinnamon*, Ginger*, Black Peppercorns*, Cardamom*, Coconut Flakes* (Organic)
Strawberry Beet Beauty: This gorgeous pink tea screams summertime with every fruity, energizing sip. Juicy notes of ripe strawberry, goji berry and hibiscus balance deliciously with subtly sweet and creamy white tea. Packed with glow-boosting and immune-supporting antioxidants, it's a treat for both your bod' and taste buds.
Tasting notes: Freshly picked strawberries and fruity hibiscus with a hint of baked almond.
Ingredients: Strawberry Pieces*, White Tea*, Hibiscus*, Rosehips*, Rose Petals*, Goji Berry*, Beetroot* (Organic)
Super Green: This green goddess was designed to keep you going (and glowing) all day, with free-radical scavenger green tea, Japanese matcha, and adaptogenic moringa leaf. Refreshing lemongrass and lemon myrtle bring balance to every energizing and detoxifying sip.
Tasting Notes: Grassy green and smooth matcha undertones with fresh citrus notes.
Ingredients: Sencha Green Tea*, Ceremonial Grade Matcha*, Organic Moringa Leaf*, Lemongrass*, Lemon Peel*, Lemon Myrtle* (*Organic)
Strawberry Immunity: Sip to your health with this gorgeous berry blend that is packed with nature's favourite flu-fighters: elderberry, goji berries, echinacea, and ginger. The bold berry flavour makes it an addictive all-day sipper, with a hint of tingly ginger for that instant feel-good boost. Insanely delicious, hot or iced.
Tasting notes: Juicy and tart berries with a subtle zing from ginger and echinacea
Ingredients: Elderberries*, Echinacea*, Strawberries, Goji Berries*, Hibiscus*, Ginger*, Orange Peel* (Organic)
Tulsi Lemon-Aid: 100% Refreshment 0% BS. Inspired by the timeless flavours of black tea and lemon, this caffeine-free dream packs an ultra healthy punch with green rooibos and adaptogenic tulsi. Bringing a wave of freshness, lemon myrtle and lemon peel make this a blissful sip hot or iced. Caffeine, sugar or flavouring? Nuh-uh honey.
Tasting notes: Citrus and grassy, with hints of black tea and sweet tulsi.
Ingredients: Tulsi*, Green Rooibos*, Lemongrass*, Lemon Peel*, Lemon Myrtle*, Schisandra Berry* (*All Organic)
Turmeric Ginger: Sip & bliss out on this fiery concoction of glowing turmeric root, sweet cinnamon, and zingy ginger. Sweet tulsi is your mellow, inflammation-hacking companion, smoothing out stress and anxiety.
Tasting notes: Sweet and gently spicy notes of cinnamon ginger and turmeric. Chai tea meets turmeric latte.
Ingredients: Turmeric*, Ginger*, Tulsi*, Lemon Myrtle*, Cinnamon*, Black Peppercorn* (*Organic)
Vanilla Cookie Calm: Treat Yourself Skip the sugar, keep the treat. This soothing tea evokes the warm and fuzzy feeling of cookies fresh from the oven. Rooibos, chamomile, tulsi keep it caffeine-free and ultra calming, blended with superfoods cinnamon, vanilla bean and toasted coconut. Caffeine Free.
Tasting Notes: Warm vanilla and cinnamon with hints of nutty toasted coconut.
Ingredients: Rooibos*, Vanilla Bean*, Tulsi*, Chamomile*, Toasted Coconut*, Cinnamon*, Pink Himalayan Sea Salt (*Organic)
Dandy Mint Refresh: Clean greens Super herbs to the rescue! This soothing tea packs a healthy punch with digestive and detox-supporting herbs like dandelion, nettle, peppermint, ginger, and licorice. Enjoy this pleasant sipper when you're feeling sluggish, or need a pick-me-up between meals. Caffeine free
Tasting notes: refreshing mint, balanced with soothing herbal notes. 
Ingredients: Dandelion Leaf*, Peppermint*, Nettle*, Licorice*, Dandelion Root*, Ginger Root*, Chlorella* (*Organic)
Lake & Oak Tea
Sale price

$22.00
Regular price
Choose options