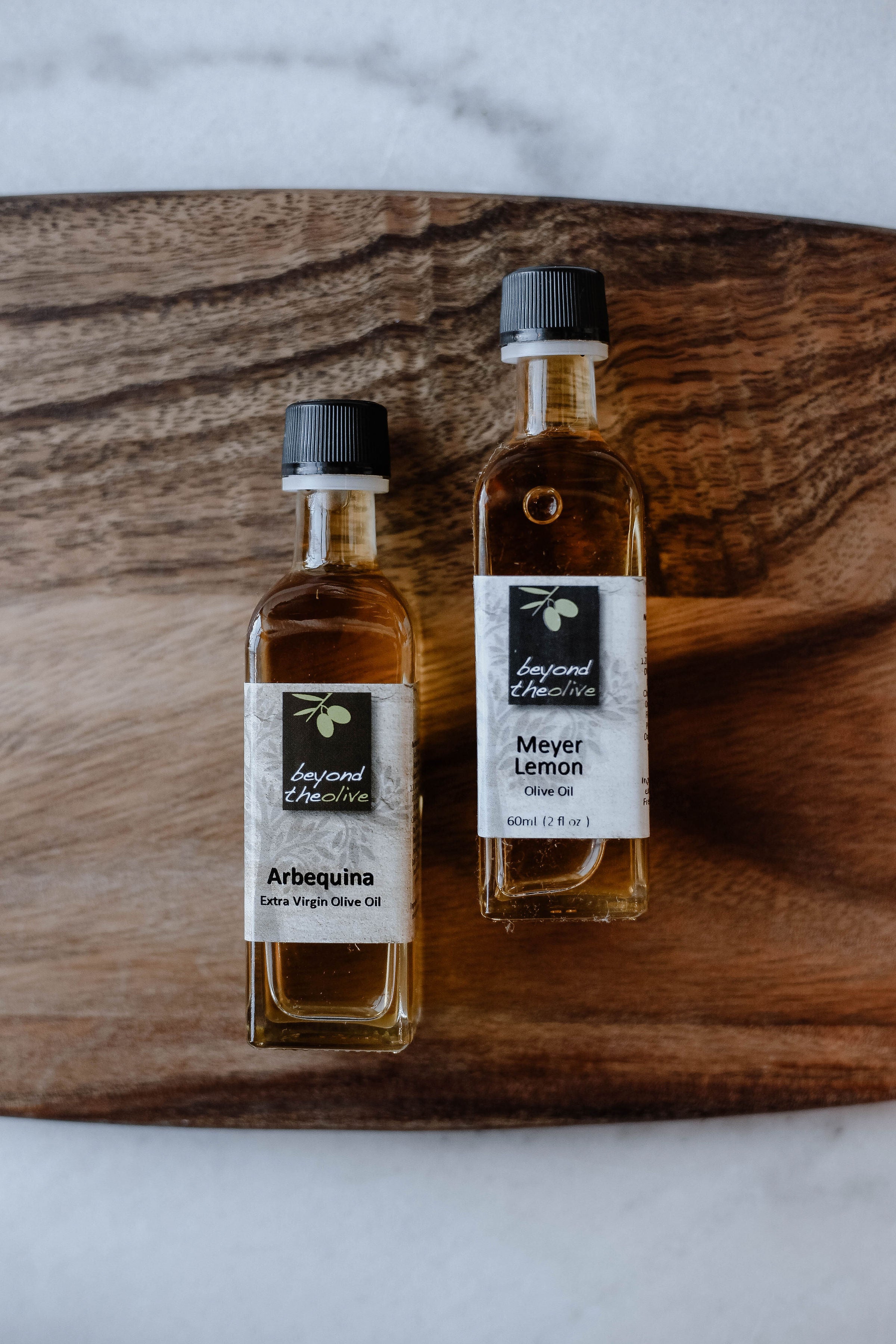 Beyond the Olive Oil 60ml
Sale price

$3.50
Regular price

$7.00
(/)
---
60ml Olive Oils
Not 'infused'. Often called 'fused' or 'co-milled' – BTO takes only the ripest fruits and freshest herbs, and cold press them with their just-harvested olives, resulting in a delectable fusion of tastes that is simply mouth-watering. Did you know all flavored oils are not created equal? Other flavored oils often use heat-infusion, instead of their unique "cold-press" process. The difference in flavor is beyond expectations!
Garlic: Plump fresh garlic cloves are pressed with newly ripened California olives to craft the perfect flavor fusion of garlic and delicate olive oil. Garlic Extra Virgin Olive Oil is delicious for bread dipping, and creates mouth-watering sandwich spreads and spicy marinades. Try it warmed as a dip for steamed artichokes instead of mayonnaise, broiled on bread with a bit of salt for instant  "guilt-free" garlic bread, sautéd Vegetables, and Dipping.
Jalapeno Garlic Co-Pressed Oil: Fresh Jalapeños and fresh garlic are added at the time of olive pressing to create this uniquely flavored California olive oil. The result is a blend of savory and spicy olive oil. Add this to spice up any dish. Even on popcorn! 
Rosemary Garlic: Simple and elegant, this Rosemary Garlic Dipping Oil is the perfect blend of seasonings for all your dishes!  Use liberally on pastas, soups, and salads.  Use for dipping bread or even better, add red wine vinegar for an awesome vinaigrette!
Meyer + Eureka Lemon Co-Pressed Oil: Fresh Meyer and Eureka! Lemons are added at the time of olive pressing to create this uniquely flavored California olive oil. The result is a perfectly balanced, versatile olive oil with just the right amount of lemon flavor. Ideal finishing oil, which compliments chicken, vegetables, or your next seafood dish. Substitute for butter on potatoes and toss with fresh herbs. Pairs great with Blueberry Balsamic or Champagne Mimosa Wine Vinegar.
Porcini Sage: This oil won the 2017 Gold Metal at the Los Angeles International Olive Oil Competition! Aromatic Porcini Mushrooms and sage are dehydrated and then mixed with with their freshest Early Harvest Arbequina extra virgin olive oil.  A delicious mouthful of porcini and a wonderful herbaceous finish of both the sage and the peppery Arbequina EVOO. Amazing to drizzle on broiled fruits, vegetables, pasta, rice dishes, or fish. Certified California Grown, Certified non-GMO, Certified Kosher
Smoked: Starting with a certified California extra virgin olive oil from the Capay Valley growing region, they then use mature olives producing a smooth and buttery oil. This oil is then hand smoke it with a mix of sweet & aromatic woods. Now you can add the rich & earthy flavor of smoke to your recipes in a heart healthy way. Pairs great with the Fig Balsamic Vinegar.
Tuscan Blend: This is Beyond the Olive's most awarded EVOO, that helped put them on the map! This oil is a grassy, herbaceous blend, with a big fruit finish of peaches and apricots. Great for fish or chicken dishes and excellent drizzled over soups or dipping a big chunk of baguette! Certified 100% EVOO by the California Olive Oil Council (COOC) + nonGMO, Raw, Gluten Free.
Arroyo Seco: BTO procures an allocation from the small production of two uniquely flavored California olive oils, Picual and Frantoio. Estate olives are hand-harvested and delivered immediately to the mill. An elegant oil with complex, harmonious flavor layers of green tea, fresh cut grass and a peppery finish, it will soon be your favorite dipping and finishing oil.
Arbequina: A mild, fruity oil with a buttery flavor and texture.  This is one of their most flexible oils and can be used for just about anything.
Tuscan Herb: Amazing - Co-pressed - Garlic, Basil, Rosemary, Thyme and Oregano are combined with freshly pressed California olives for the perfect Mediterranean herbal blend. Sauté with fresh vegetables, chicken, and other foods. Toss it with pasta or splash it on your favorite vegetables.


Mandarin Orange: Fresh Blood Oranges and Mandarin oranges are added at the time of olive pressing to create this uniquely flavored olive oil. The result is a delicious and refreshing olive oil with just the right touch of Citrus flavor. Ideal for grilling chicken or pork dishes. Adds great flavors when baking desserts such as cakes, cookies and brownies. Pairs great with our Fig Balsamic.
Beyond the Olive Oil 60ml
Sale price

$3.50
Regular price

$7.00
Choose options